Last night I got a package in the mail: my hand-knitted hat from Christabel, aka Craft Punk, aka
cseneque
!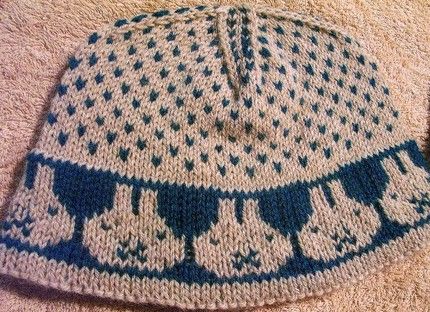 I was wary about buying a hat online. I seem to have an unusually shaped head, and hats almost always look awful on me. Most commercially-produced beanies seem to be made for someone with a very long, thin head, and I guess I have a round one. I have a fringe, so it looks awful when a hat is too long and squishes my hair down to my eyes. Anyway, I convoed Christabel (who was lovely) and decided to go for it. I couldn't resist bunnies!
It came last night in a package with a bunch of goodies. It was like having a birthday! I was so grumpy and tired and it was just the thing I needed. And the hat fits like a dream! I am generally pretty critical of my appearance, but I have to say: THIS HAT MAKES ME LOOK CUTE AS A BUTTON. It is a lovely shape, not too long (it even looks fine with my fringe!) and perfectly fitted. The knitting is fantastic quality and the yarn is soft, high-quality pure wool. There is even a knitted cotton lining around the edge (behind the part covered by the bunnies) to protect sensitive skin from the wool! It's so comfy and warm, I love it. I wore it out to dinner then all night while we sat and drew at the table. I wore it on the bus this morning (I was so nice and warm!) and I wish I could wear it at my desk!
Christabel has a bunch more lovely hats as well as cuffs, crocheted jewellery and hand-painted yarn in her
etsy shop
. I am in love with the
squirrel hat
and this lovely
fir hat
, but I've already broken my "no Etsy presents for myself" rule this month, so I'll leave them for you.