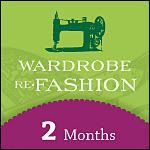 I, Jessica McLeod, pledge that I shall abstain from the purchase of "new" manufactured items of clothing, for the period of 2 months. I pledge that I shall refashion, renovate, recycle preloved items for myself with my own hands in fabric, yarn or other medium for the term of my contract. I pledge that I will share the love and post a photo of my refashioned, renovoted, recycled, crafted or created item of clothing on my blog, so that others may share the joy that my thriftiness brings! Signed, Jessica McLeod.
OK, so the Wardrobe Refashion project closed up this month. The blog is no longer active and they are not accepting new sign-ups. Well guess what, Wardrobe Refashion? I DON'T CARE! I'm signing up and you can't stop me! You think you can keep me out of your club?!? NOBODY PUTS BABY IN A CORNER!
Ahem.
I could probably have signed up for this two months ago, because I don't think I've bought anything in that time. In fact about two months ago I actually tried to spend a day buying summer work clothes and failed to buy anything at all. All the fashions in the shops (that is, the shops that I can afford and which carry my size) at the moment are very unattractive to me. Ugly florals, 90s prints, cheap lace, jumpsuits(?!): I would rather cut a hole out of a bedsheet and wear it like a poncho than spend money on those monstrosities. (Note to self: cut hole in bedsheet and wear like poncho for maximum comfort.)
There are many reasons why I want to stop buying clothes and make my own.
Cheap clothing comes at a price: environmental and social. While I don't really indulge in "fast fashion" anymore-- when I buy something, I keep it for a long time-- the clothes I can afford to buy are almost certainly not being made in an ethical or sustainable way.
It's not often that my tastes coincide with what's currently fashionable. I love Peter Pan collars, empire waists, 40s prints, wide pants and vintage buttons, and the only way I can get those looks is to make my clothes myself.
Most of the clothes I see in the shops which I actually like, don't come in a size that fits me. Fashion labels generally don't make above a size 12; as a size 16-18, I have to really search to find something that's not apparently designed for middle-aged women with a taste for bright abstract florals and the desire to completely shroud their bodies in synthetic fabric.
Even when something comes in my size, it could always fit better. Mass-produced clothes have to fit the maximum of shapes, so if something fits my large bust, it's too big everywhere else; if it fits at the waist, I'm busting out on top.
There are others, but that's enough to be going on with.
Wish me luck!