This was my second Heartsy order (my first still has not arrived, and you had better believe I have a head of steam building up for a blog post about that).
Face It Cosmetics
are an Etsy store located in the US. This is their shop description:
Face It Cosmetics are fabulous healthy products that will help you put your best face forward no matter what life throws at you…FACE IT. Our Cosmetics will make you feel beautiful inside and out. All of our products contain a minimum number of ingredients (mostly natural ones) but still promise amazing products that really perform. The result is a professional product that is synthetic free. Makeup collections are perfectly pigmented products for eyes, lips, and face that are gentle and pure enough to use on all skin types. Indulge in something that is good for your skin and good for the environment.

I ordered five products: four eyeshadows and an eyeliner.
They arrived in a padded envelope: no note, no business card, no invoice, no samples. Here is where I think Face It made a big mistake. As I mentioned
in my Heartsy post
, this discount process only really works for a business if they manage to convert buyers into returning customers (which of course is what every business should be doing). For example, I recently bought some samples from
Shiro Cosmetics
(not through Heartsy). Even though I had only bought a bunch of samples, Caitlin included a business card, an invoice with a personal written note, two free samples, and two little Japanese candies. The whole lot was beautifully wrapped in a little gift bag inside the envelope. Now, I don't fault anyone for not adding more than I've paid for. However, what Caitlin managed to do was to turn opening that envelope into a fun, exciting, pleasurable experience. Even before I had tried the product, I was happy. As a result of that (and also the great quality of her product), I'm already planning my next purchase, and perhaps more importantly, I've been telling others about her.
Anyway, this is not a review of
Shiro
(although I will do one of those eventually). My point is that, perhaps because of the increased pressure that the Heartsy orders put them under, they did not manage to impress me with the package.
I swatched these onto my hand and was immediately disappointed. From the Etsy photos and descriptions, I had thought I was buying four very different colours; I had ended up with a white and three greys.
Photos taken outside, but not in direct light; I did no manipulation of the image. Colours were applied over Australis Eyeshadow Primer. (If you'd like to see a frighteningly large version of this photo, go
here
. Warning: it is freaky, and my apparently smooth arm skin is actually origami.)
All four colours had a LOT of fallout, as you can see in the photo, and were quite sheer-- I had to carefully dab them on to get them to look this pigmented.
First of all, I have no idea what possessed me to buy white eyeshadow, but
Billowy Clouds
was crazy with the fallout and very sheer.
Sparrow
was the biggest disappointment, because the product picture looks like this: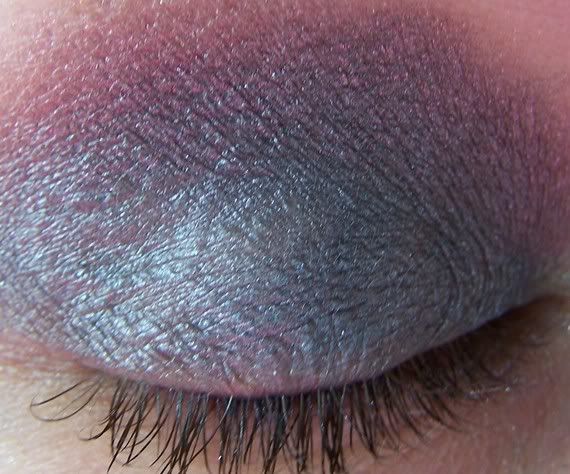 I was expecting the shadow to have a similar blue-pink colourshift effect, but all I can see is silver.
Sterling
looks pretty much like the Etsy photo I guess, although poorly pigmented.
Toasted Walnut
is probably the prettiest of the colours, and I have worn it a couple of times, but it's not the intense party colour shown in the product photo, more of a work-safe colour.
The other big disappointment was the
Gold Gel Eyeliner
.
This is not a colour that I would describe as 'gold'. I imagined something akin to gold leaf; this is really more of a flat light tan or beige colour, with little to no shimmer. It's also not a gel by any stretch of the imagination, definitely a cream. The first stripe in the photo is with an eyeliner brush, the second a swatch with my finger.
So, I've left my first ever negative Etsy feedback. I felt pretty uncomfortable doing this; there is such a supportive tea-and-hugs ethos to Etsy, and bad feedback is taken very seriously. But I was disappointed in the product, and it wasn't due to an accident, it was due to poor product. While
Suzanne has had some success with FIC's facial products
, I will not be ordering from them again.